It takes more than an idea to create an engaging mobile application. Unnecessary gimmicks will not help you break through the top charts. So what's needed to bring your app to top positions and keep users engaged for a very long time? Well, proven strategies and app features will surely help you accomplish this task. These aren't some tricks which will work instantly. Being an app owner you have to put a significant amount of time & effort to keep things right on track.
Here are few tactics which you can use to enhance the user engagement and customer base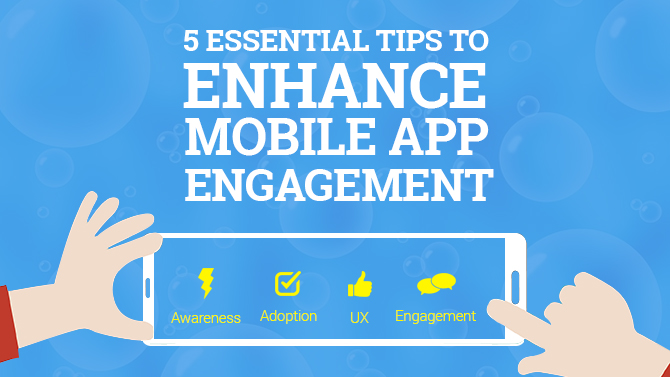 Craft a Stellar App Store Listing
The engagement starts with the user's first interaction with the app in the app store itself. If no one downloads your app, then in many ways that's the worst form of engagement. Whenever you initiate your Mobile application development process make sure you take care of the user engagement from beginning.
Take the time to think about why people will even give your app a chance. What features do you offer? What sort of problems you are trying to solve with your app. Focus more on benefits that your app offers to the users. Try to improve your app according to the feedback given by testers and users.
Educate Users with Onboarding
If an app store listing is a handshake, then onboarding experience is the first conversation with the potential users. Once the user comes onboard, your goal is to actually get them into your app. That's it.
The most common mistake done by app owner is giving a tutorial to users. Instead of teaching the users, you should focus on providing a brief about the benefits of using the app.
Let Users "Try Before They Buy"
The mobile apps that require some sort of login or authentication, especially apps such as Facebook and Twitter should never use this strategy upfront. Instead, let users explore your app as much as possible and only require signing up when necessary.
This approach helps to build off the idea of showing the value of your app before a user actually commits to it. You should allow your users to read through everything, and whenever they want to perform an action, they have to create an account to gain full access.
Make Speed a Feature in Your App
The app users have become more demanding that ever. There are plenty of merchants in the market that deliver same products but to stay ahead in this game, a business needs to offer speedy services. So make sure you come up with a bug-free app which can offer a superb user experience without any lag. It will be good if you test your app on a regular basis so that you can keep all the errors at bay.
Don't Forget About Push Notifications
Apps that remain quiet for a long period of time can be forgotten or sometimes deleted from the user's device. To stay in the mind of your app users, you should roll out regular push notifications that draw them back to your app. For example app such as Musx has a habit of sending a weekly notification to motivate users to come and look at the top 10 songs of the weekend. They also send selective timely notifications related to the ongoing or upcoming concerts and other music-related events.