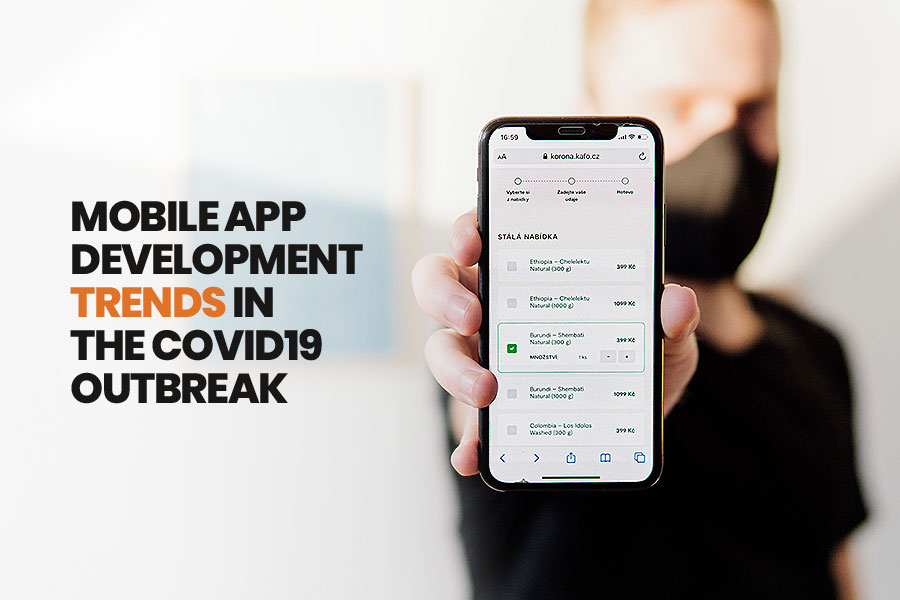 Quick as a wink outbreak of COVID-19 is sending shock waves across the globe as we all are trying to adapt to the new normal.
Businesses are acting bump heads to understand what they are facing and what steps they need to follow to keep going during this economic catastrophe. The other question to uncover is what will 2020 look like for mobile apps?
With people staying home, they spend more and more time scrolling their mobile to perform every task, that presents an opportunity for numerous verticals. Also, these, are undeniable challenging times filled with uncertainties. For instance, the use of smartphones in India during the COVID-19 outbreak reached 77% for mobile payments in amid of Coronavirus.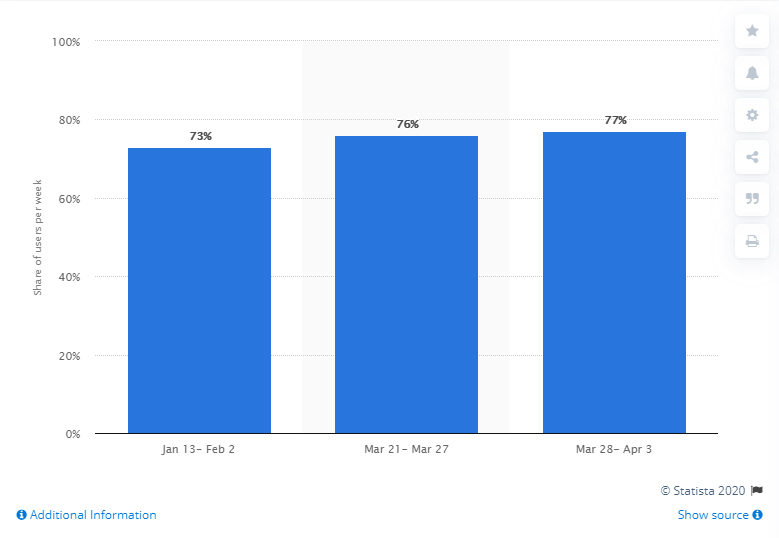 The Crucial 5 Years market Insight (2019-2024)
#INSIGHT 1:
Amid spreading of COVID-19, the latest projections across the globe show that the stores will produce a combined $102 billion in gross consumers spending during 2020, that is a rise of 20 per cent year-over-year, despite the impact of COVID-19.
#INSIGHT 2: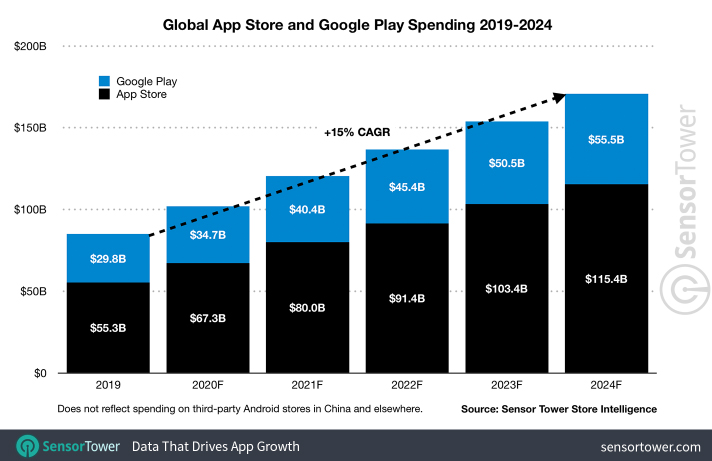 Besides the revenue, app downloads are going to see a lasting shift. New mobile apps install are predicted to reach 44.5 billion in 2024 on the App app store and 139.2 billion on Google play, mirror the growth of 45 to 46 per cent in comparison to 2019 total, respectively.
The most substantial impact on Y/Y downloads growth will be witnessed this year when the apps developed by leading mobile app development company are projected to reach a whopping 140.3 billion (roughly 22% upsurge).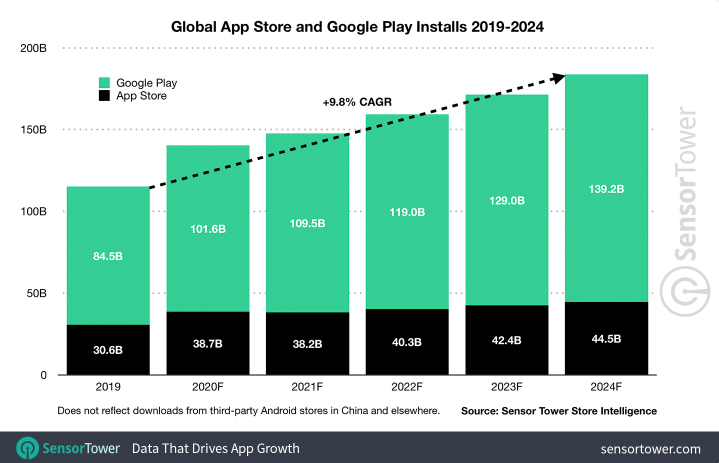 #INSIGHT 3: 
Mobile games are predicted to account for 41 per cent or in figures of 74.8 billion of all new apps installed globally by 2024. This reflects the increase of CAGR of 12 per cent over the next five years, but nevertheless, mobile apps are going to witness an exponential upthrust in the coming nine months.
So, here comes another important question – "Will The App Economy Emerge Healthier"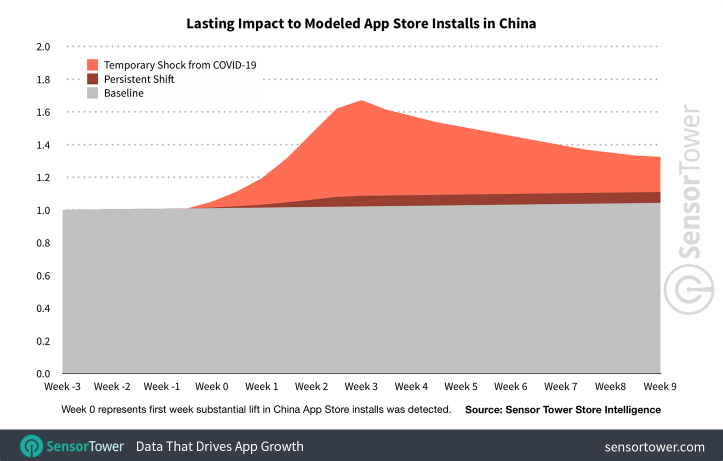 Having an insight into the above-observed mobile app development trend  this far, I have attempted to take a pragmatic approach that presented a potential outcome. The result is grounded on numerous external factors, consisting of what could be probably a prolonged and significant economic crisis.
Irrespective of consumer isolation acting as a determinant rather than a potential boon, the professionals expect the app world to clime these uncertain times better than any other industries.
As already observed by the above data, the app adoption and engagement is upped across the board, while consumers spending within the ecosystem is remaining stiff and stark. This time, seem unpredictable for consumers in numerous ways, is catering to maximize reliance on the mobile as a trusted choice for communication, commerce, and entertainment to levels never seen before.
So, hire mobile app developers that anticipate from this situation, making your mobile app centrally positioned than ever as the way clients interact with them easily. As an outcome, the mobile apps are foreseen as a significant driver and healthy surrounding for developers, enterprises and investors throughout 2024 and beyond.
The App Ideas To Follow Amid COVID-19 Outbreak
With the Coronavirus outbreak spreading global panic, people are finding sure-way to ensure they are safe. Health organizations, MedTech startups and many other burgeoning apps and online service available in the market are lending a hand to people for tracking and mitigating the virus.
However, here is an overview of the latest resources for distinctive business verticals.
#Healthcare Industry
Being responsible puts the onus on your shoulder to be answerable to the society and your fellow beings. And, amid the virus outbreak, its need of the hour to provide everyone with the basic medical amenities and essentials.
Thus, keeping the medical aspect in mind, it's beneficial to develop a medical app from distinctive space. Like,
1. App To Remotely Monitor and Engage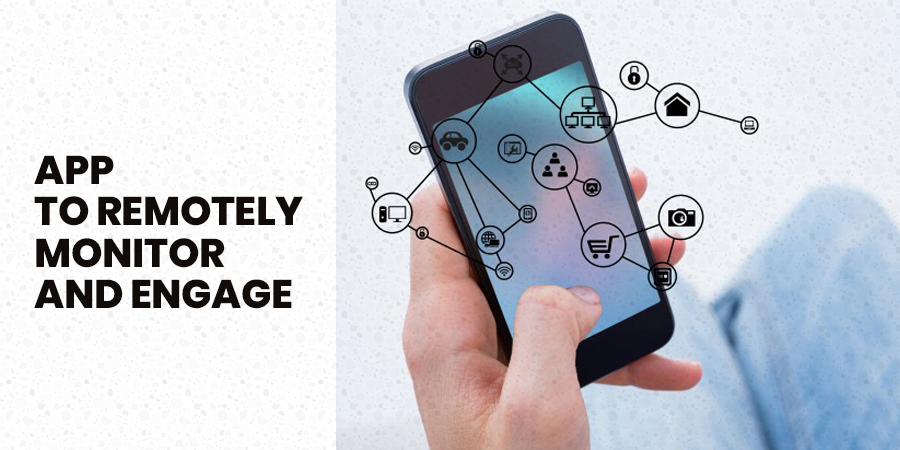 These medical apps offer the potential to monitor and interact with patients at their homes, facilitating communication between quarantined people and the healthcare services, as well as maintaining visibility of those recently discharged.
The platform uses Artificial Intelligence over time to allow mobile app development company to identify patients at vulnerable risk of deterioration and optimize their care.
2. The Web-Based Dashboard For Live Updates
The web-based dashboard monitors multiples to several data sources to keep track of new cases of COVID-19 patients, consisting of various Twitter feeds, direct communication, online news services. Before updating the dashboard, researchers confirm with organizations like the CDC, China (CCDC), World Health Organization (WHO), the city and state-level public health authorities.
3. A Reminder To Wash Your Hands App
One way to keep sure you follow the government protocols to defy COVID is by proactively getting into the habit of washing your hands frequently throughout the day. The new app is a simple reminder service. The user can follow the instruction on the app on how often they would like to be reminded to wash their hands, and the app will do it for you.
Moreover, you can think of opting for cross-platform app development to make an app with handwashing infographics to your favourite songs and simultaneously ensure you wash your hands long enough. According to the CDC, washing your hands for at least 20 seconds is one of the best ways to prevent the coronavirus.
4. Don't Touch Your Face App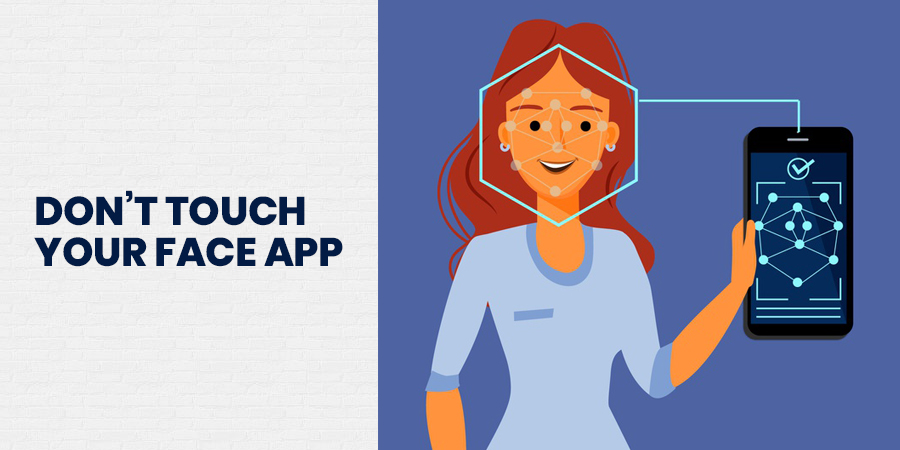 2020's threadbare phrase goes like "Don't touch your face "along with keep washing your hands.
These are hard recommendations for some people to follow even though the health organizations have declared it as one of the best way possible to fight against COVID-19 spreading. A new service may seem helpful, by shouting at you if you touch your face.
Don't touch your face uses a simple mantra – learning algorithms to recognize images of each user touching their face, and not touching their face. Once it's been trained, it can be left in an open tab or a minimized screen and use web notifications to ping you if you touch your face – or else, if you leave the window visible, to put a large NO on-screen.
As per Statista, 63% of mobile users have a healthcare app installed on their mobile phones. The predictions say that the number of healthcare apps users will rise exponentially. So, if you have an app idea or even want to save people's lives, it's time to bring it to life. So, if you are in the urge to help people to stay healthy, hire Android app developers or iPhone developers to become more well-versed about preventions from Coronavirus and protect yourself and others from this
#Education & Learning Industry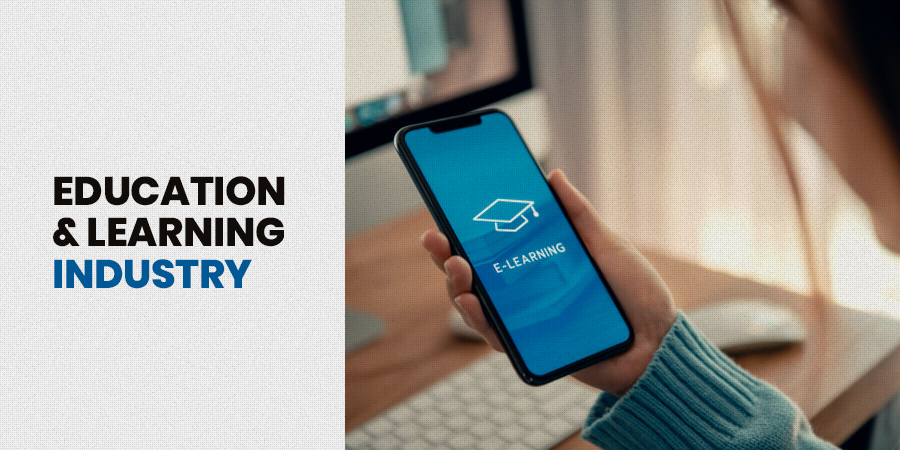 Students run a higher risk of contracting with the virus because educational hubs and institutions are always crowded. The education industry has a mixed reaction to the lockdown strategy because those players who were technology fore-runners have leveraged their LMS platforms to conduct E-learning with the right Android and iPhone app development company, ensuring learning doesn't stop.
Other numerous unprepared players have realized their folly on not going the long online way back. Presently, several AI integrations tools are available in the mobile app development service suite to have managed the increasing appetite of learners. Online educational apps are nowadays highly recommended to convert every classroom into smart classrooms.
Also, students are spending a great deal of time on social media applications, but with the education sector seriously providing provisions for online educations through apps, now the equal time is being invested on these educational platforms as well.
To proffer you with some motivation, here are some encouraging trends. Have a look!
In the USA, 67% of companies offer mobile learning through mobile applications.
From 2000-2017 the digital learning culture has increased by a percentage of 900%.
By 2025, the entire E-learning landscape is predicted to reach close to $325 billion.
With E-learning providing several advantages, including flexible scheduling and savings in the budget, it's high time to hire Android app developers or iOS professional, to curate your niche.
If still you are perplexed, Remember "IBM saved a total of $200 million when it turned to online learning".
#Crowdfunding
To maximize and raise collective and community capital, efforts of collaborating with near and dear ones along with individual investors help in the cases of crowdfunding. Presently, the crisis has brought in immense uncertainties because the industries across have cancelled their operations and a magnificent portion of blue-collar workers are rendered off from their respective jobs.
In most of the nations, people are struggling to find a safe and secure place where their daily needs met. Thus, crowdfunding platforms came to the rescue.
Digital crowdfunding platforms have massively contributed to every know-how of the dynamically changing arena as it has given rise to the newer ways of collaborating and mobilizing support in times of crisis.
Advertising account has minimized, but crowdfunding has provided campaigns specifically on social platforms like Facebook and Instagram, which are every millennial hot choice. For example, Oros, a famous apparel brand, also step forward with its campaign on March 10. It was fully funded within a time span of 2 hours and still continually emerges to raise money and have exceeded $2,10,000 in their collection.
#Banking & Finance Sector
From the very beginning of national quarantine to school closures, countries around the world are trying everything they could to slow down the spread of the virus outbreak. Though people are not allowed to step out from their homes, that shouldn't stop them from enjoying banking services whenever they need.
So, this is an arena to invest at the moment that makes people's lives easier to access banking services whenever they need, even in critical conditions.
The Governments are asking people to stay inside their homes and prevent the coronavirus from further spreading. But, this real-life demur can be managed easily with banking and payment apps developed by leading iPhone app Development Company and Android firms that are well-versed with emerging technologies.
Also, the global economy is expected to notice a slowdown by at least two per cent this year due to the impact of COVID-19. UNCTAD is even calling on governments to take priority measures to curb this economic fallacy.
However, this mobile app development trend is much easier for everyone and in no time will turn hot pick of millions with cherishing a plethora of banking facilities. The emerging technologies like Blockchain not only build more safe and secure payment methods but also have the potential to improve the global economy. Below, find the graph to advocate the said statement.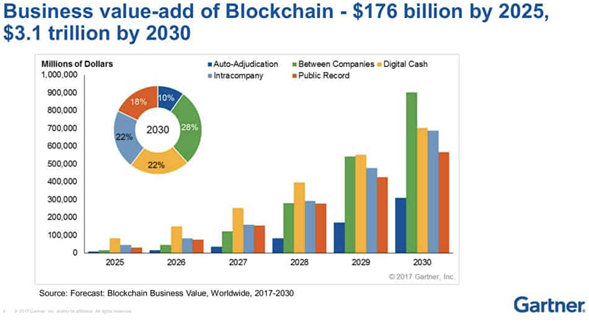 According to the above stats by e-learning industry, it's clear that mobile transactions are gaining momentum for various businesses, Blockchain-based mobile apps are gradually getting popular. The big majority of the banking and finance sector has already started out with this technology in their apps for money transfer, back-end functions and record storage purposes.
So, this is the time to keep your finger-crossed and hire iPhone app developers and see the upsurging trajectory of Blockchain technology reshaping the future of mobile banking apps.
Putting the Final Notes
The pandemic is here to take more time than expected to wipe off, and economies will take off some time before it resorts to the usual routine again. In such peculiar situations, mobile app development company like Appsted comes in the big picture giving a fresh lease of life with some proactive measures taken by the experts.
Appsted highly talented and experienced team adheres to build mobile applications from past 15 years and have helped numerous startups and organizations to opt for digital tools to experience a complete 360-degree transformation in their businesses.
In such a situation, mobile applications are getting a fresh lease of life thanks to some proactive measures taken by companies in advance. We have the experience of building mobile apps from the last eight years and have helped several organizations to adopt digital tools to experience a transformation in their businesses.