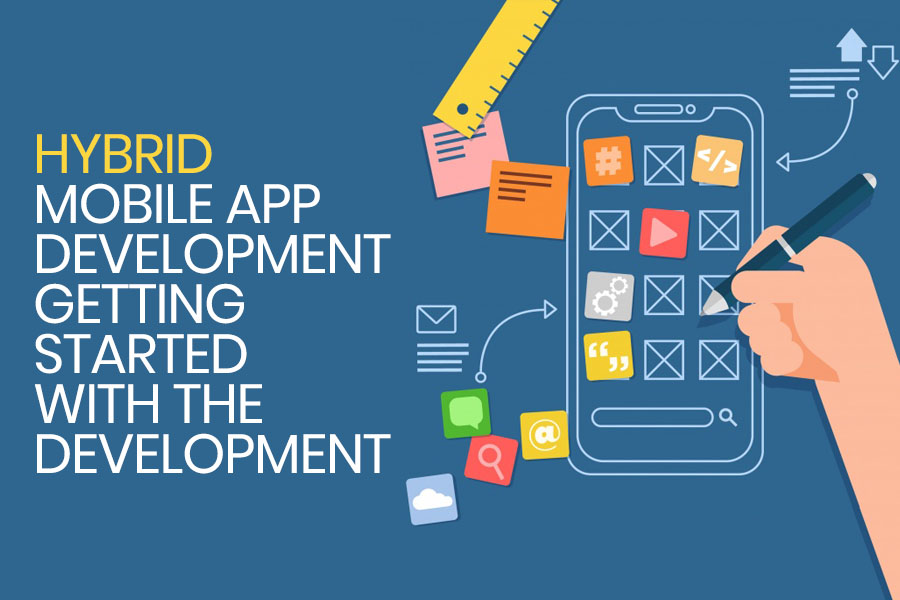 The debate over whether you should go with hybrid app development or opt for native mobile app rages on.
So, before we get started with the developing hybrid apps, let's have a quick revision about what is a mobile hybrid app?
What Are Hybrid Mobile Apps?
Hybrid mobile apps are applications that are installed on mobile phones, the same as other apps. What makes them stand distinctive is the fact they possess from native apps, applications created for specific platforms like iOS and Android, elements from web apps, and websites that act like apps and are not installed on a device but can be accessed via any browser through the internet.
Hybrid apps are developed in a native container that works with a mobile view object. When the app is used, this object displays web contents, all thanks to the web technologies (CSS, HTML, HTML5, Javascript).
In fact, it displays web pages from a desktop website that are adapted to a webview display. The web content can either be displayed as soon as the app is opened or for some specific parts of the app only, i.e. for the purchase funnel.
And, when it's about accessing a device's hardware features like camera, accelerometer, and contact, for which you specifically installed the native apps, it's solved with including the essential features for both platforms – iOS and Android. The hybrid apps can also rely on the platforms that provide Javascript API's if those functionalities are called within a webview.
Did You Know!
The more recent technologies include React Native and Flutter from Facebook and Google. These apps can be easily deployed across multiple platforms and is usually the cheaper and faster solution to build a mobile app. Hire a React Native development company to help you build a hybrid app.
The Benefits of Hybrid Apps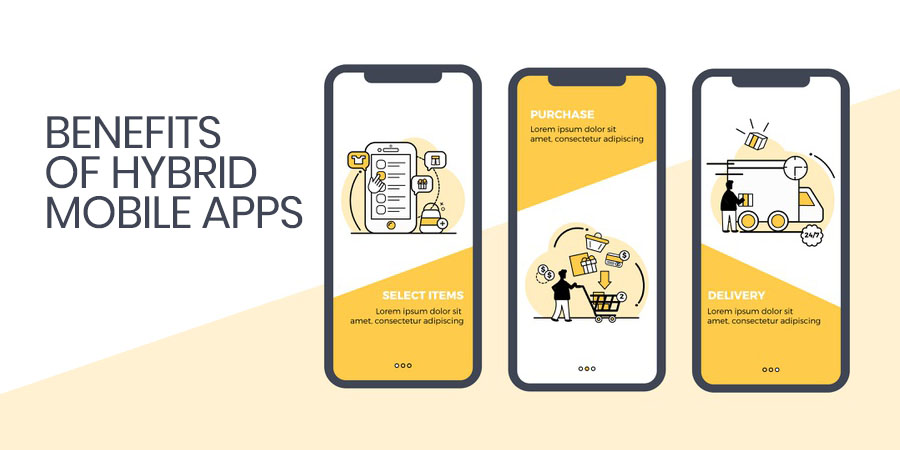 The most alluring benefits of hybrid app development is the affordable approach ( developers estimate 30-90% savings to a native app), followed by time consumption and the convenience to work well on any platform and devices.
So, the advantages are as follows:
It provides the right amalgam of user experience with agile methodologies accompanied with affordable cost.
It avoids the limitations of the Apple store. As you know Apple has a validation time for approving the app, depending upon whether it is a first submission or an upgrade version.
Thus, the hybrids app offers a great advantage for the developers who want to keep their app upgraded as it's not important to re-submit the latest version of the modification that hasn't touched the native code.
The code of the web part is reusable. The code is written once and can be deployed across all the mobile platforms.
As most of the applications are used programming languages like Swift or C-Objective, but hybrid app development is developed using the programming language by web developers like (CSS, Javascript, and HTML) who can re-use their knowledge and experience. Thus, making hybrid mobile app development a reliable and convenient approach.
The best part is deployment time and the cost is minimal. The code is written once, thus reducing the development and deployment time in comparison to native apps for iOS and Android versions.
So, here are five critical situations where you'll choose a hybrid app over a native one.
1. Are You Okay With An "Okay" User Experience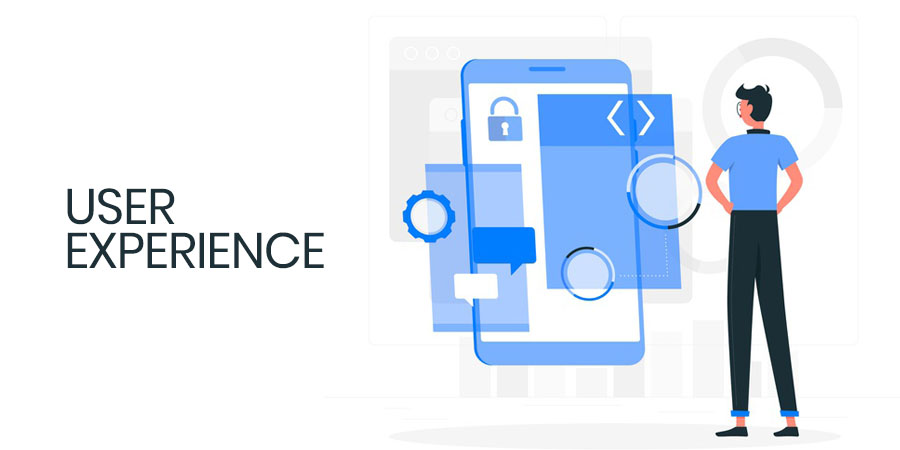 As you know the web is not for competing with the high-end native apps. However, some think the UX is getting closer, but there is always a jank. It's not just about talking technical, but if a Android App development company needs to develop an alluring yet ground-breaking app, a behemoth number of profound developers opt for hybrid development.
Maybe that is the biggest reason, 80% of mobile interactions are done via hybrid mobile apps.
2. You Care Much About Your Users
In an article on Mashable, iOS engineer Eric Miller compared the native apps and hybrid mobile app development in the most precise way.
"Native applications have the benefit of familiarity. Developers already know how to code for iOS and Android software development kits and can expect how they'll function. Users are also already acquainted with these apps. They know the feel, flow and navigation and everything about the applications they already use on their native devices and trying to reproduce that using hybrid is a little bit tricky."
This level of authorization allows cross platform app developer to access the benefits of the latest frameworks provided by the app store to be sure of the latest and relevant features are included.
3. If You Want To create Intuitive And Rich Media Apps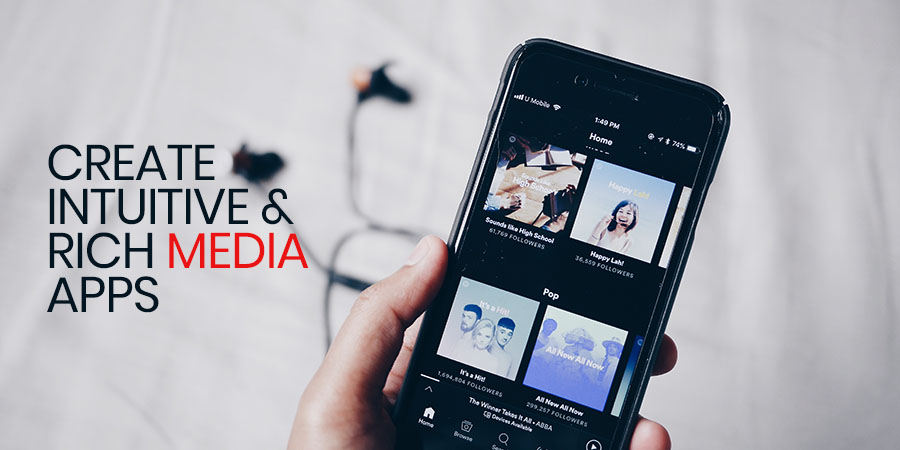 Have you ever seen any gaming app built-in hybrid app development?
Probably not!
The reason being the " hybrid app is the ideal choice for developing media-enriched or graphic-interactive" gaming apps too. The higher the slope goes, the more interactive the app is.
4. If Speed is Your Priority
Your smartphone and network is much faster than yesterday. In-fact, GeekBench shows the latest iPhone is ten times faster than an earlier released version of the iOS.
So, to wear a cold shoulder to the response lagging time, hybrid app development comes to the big picture.
5. If It's A "NO" For Restrictions
While developing different apps for the Android and iOS versions, it seems full of hassle and a tedious thing to do. However, with aligning by the hybrid mobile app it is a "NO" restriction for every upgrade version.
Develop A Hybrid App With Appsted
At Appsted, our experts dwell with extensive experience of more than a decade in helping our global clients create and curate successful hybrid mobile apps (on React Native and Flutter). Out of which many of our clients have crossed a whooping number of downloads, crafting them in the top apps to get downloaded in the app stores- iOS and Android in over 50 countries, featured in TechCrunch and even raised millions in venture funding.
Have a look at the portfolio representing Appsted technology and innovations proffering the quality of apps we build. Clients like you hire a mobile app development company Appsted to accomplish their unique and industry-specific business goals.
So, if you're looking to develop an app, get in touch with our proficients by clicking on the contact us link on this page, and unfurl the secrets about what's the best approach for your specific product idea, how much time would it take to build and launch the first iteration and what would it cost.