Year 2017 has witnessed some of the most advanced technological changes. One of the most important area that has experienced the transformation is iOS application development. iPhone app development has been revolutionized with the release of latest version iOS 11, move towards Augmented Reality and the introduction of Swift 3.0 programming language. Apple is one of the most innovative technology company and it has also hinted about its plans to embrace the open source outlook in contrast to its proprietorship approach.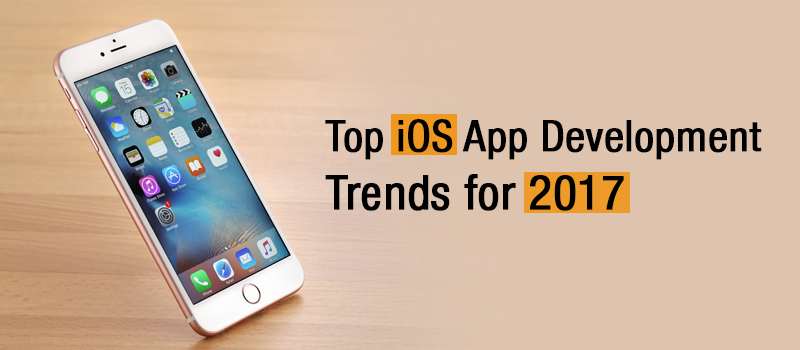 These changes in trends also brought more convenience to consumers but have also increased the complexities of iOS app development for iOS app developers. Here we are giving you the list of latest iOS application development trends for 2017 which you can use in your business.
SWIFT 3.0 Programming Language
Swift programming language was introduced two years ago and it has seen a phenomenal rise since then. Swift is an open source programming language and can be used for the development of efficient iOS applications. Swift was launched by Apple and it is taking over the Objective C rapidly. With the introduction of Swift 3.0 in Xcode 8, the iPhone app developers should be well aware of the migration needs. Swift has brought many changes and conventions in the iPhone app development process. With Swift 3.0, the iPhone app development companies need to note that the APIs have become smarter and the app development process has become more swifter.
Augmented Reality has arrived
Augmented reality was introduced as a concept but it has found enormous use in the field of iPhone app development using the GPS technology. Augmented reality has also brought storm in the mobile app gaming industry and allowed the iOS apps development services to integrate AR for advanced 3D gaming app development. Also the use of AR will be increased in the field of iOS application development services to make the user experience an amazing one. Other than AR app development, VR will also gain popularity in 2017 and beyond.
IoT Apps are in the market
Several homekits have been introduced in the areas of consumer iOS app development. With this, the Internet of Things has complemented the iBeacon technology to deliver the convenience of remote controlling. In recent time, the GPS sensor technology has evolved and iOS app developers are now more capable of integrating IoT with consumer applications. Many companies are investing a lot in IoT this year. With the increased usage of wearables, the wearable app development will also become more popular.
GPS and IBeacon Technology
The latest iBeacon technology is also becoming more popular and adding more functionalities in the iPhone app market with the help of GPS technology. The location based tracking with the GPS and Beacon technology is also helping iPhone app developers to deliver businesses and providing more customer satisfaction as it can serve customers as per their location based preferences. So many businesses are using iBeacon technology for their marketing and want to increase its commercial applications for household appliances in 2017. The iBeacon technology and GPS sensors are creating more opportunities in remote controlling.
Security is main concern
Apple has started to give more space for open source outlook but it also raises the concern of security. With the introduction of technologies like AR, VR, IoT and iBeacon, the field of iOS app development is getting more interesting but it also demands iPhone app developers to address the issues of iPhone app security. Now consumers are more dependent on smartphones for storing their personal data and to do various financial tasks hence security will always be a point of major concern.
Conclusion
We have just discussed the emerging trends in iOS application development for 2017 and Apple is adopting them quickly. Apple is an innovative and research oriented company hence it doesn't want to lag in these areas of innovation. As Apple is incorporating these latest trends and the iPhone app developers are adopting them hence you and your business should also be ready to accept these trends and surely they will help you to win in this highly competitive iOS app development market.