Mobile applications are data-oriented. It means that when developing these apps, developers often need to constantly store data on the device itself to ensure an accurate functioning of the app. Parse is a relatively simple and easy to use service which takes the guesswork out from creating a complex backend for your mobile app. As a cloud app platform, it makes your app data externally manageable and easily accessible for the admin purposes, outside of the app, regardless of the platform you are using. And the best part is one can easily connect to Parse backend using a Rest API.

In this tutorial, I will be guiding you with the ways of making the most out of the Parse REST API and how it can be used. If you are associated with any iPhone or Android application development company and you are at a beginner level, then this tutorial can help you as it is easy to follow and will surely help you to get the hang of Parse.
But, before I directly take you to the subject, you need to grab the source code from GitHub  . also , I would like you to give some compelling reasons to use Parse.com.
Using parse, one can easily host their static image files ( up to 10 MB) on Parse Hosting services. It's a best way of using parse CDN to render images of your website.
You can also use Parse Analytics service to keep a real-time track of our API and its usage. Using it, one can also track their custom events through dashboard.
With the help of features like Parse Social, it becomes extremely easy for you to integrate your application with social networking platforms, which can easily be taken to the Parse Customers page to see what other developers are doing with Parse Products.
So, let's get started.
1. Login to Parse Account
The first step you need to take is simply create a new account. Once done, login to your dashboard and start following the below mentioned steps.
Click on the "Create New App" button
Enter the name of your app ( we are calling our app "Todo"), and select "Create App".
Once the app is created, you'll see the screen like this. Make sure you remember your application ID and Rest API key. Application ID is important to identify your app.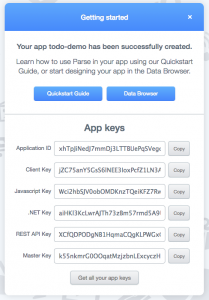 After this, click on the "Data Browser" tab, and then click on "Add a Class" button
Choose "Add Class" in the sidebar.
This is the class that we are going to use for your app. Here you can use the class similar to the name of your app. The result will look like this: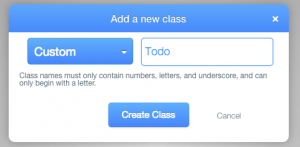 Here, you need to click on "Create Class" and after this you'll have all your classes ready. There are four defualt columns: objectId, createdAt, updatedAt, ACL. These are created automatically for all the classes. They are described as follows:
Obejectid- a unique id of the object
CreatedAt- indicates when the item is being created to the Parse
UpdatedAt- represents the time when object is updated last
ACL- accesses control list
Once done with the above mentioned steps, it's time to add a custom property to our newly created class to hold the content of the same. Let's simply call it "content".   Now, click on the "+Col" button, and it will provide you with the box like this: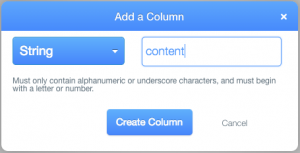 For the column name, enter "content" in the given name field, select a type of string, and click on "Create Column". It's done!
As of now we are done with creating classes, we can now proceed to create our iconic app.
2. Creating a New App
Once you get the access of the "Create Column" option, execute the below mentioned command in the same, to get the iconic app.
ionic start todoApp blank
Running the command above will allow you create an Iconic starter app. Now, navigate to the directory of your newly created app and enter "iconic serve" to kick start the process of development at http://localhost:8100.
After this you can start on creating your very own iconic app with the help of some snippets. If you belong to non-technical background, then you may opt to hire Android app developers for assistance.
Let's Wrap Up
I Hope you have gained a pretty good understanding of the Parse Rest API framework and how it can be used to serve the back-end purposes of your mobile app.