Mobile has been dominating the retail landscape according to more than five years of leading market researchers prediction. The human lives have been extended with the excessive use of smartphones and tablets. Do you remember, when last time you did not carry your smartphone while going out of your house? In fact, it is no wonder if I say that carrying smartphones is as important as carrying your wallet. They've transformed the way we perform our day-to-day activities, and how we communicate with our customers and companies similar.
In multiple device world, both the term "M-commerce" and "E-commerce" have gained a considerable amount of popularity. With the rise of iOS and Android phones, consumers find it easy to search and buy the products on their smartphones. This has also given a huge demand of professional Android app developer or iOS developer. However, mCommerce also fetches up certain drawbacks of e-Commerce viz. lack of mobility, privacy, security, undeveloped software tools, etc. Which further resulted in the acceleration of global mCommerce economy and anticipated to reach 100 billion USD by 2017.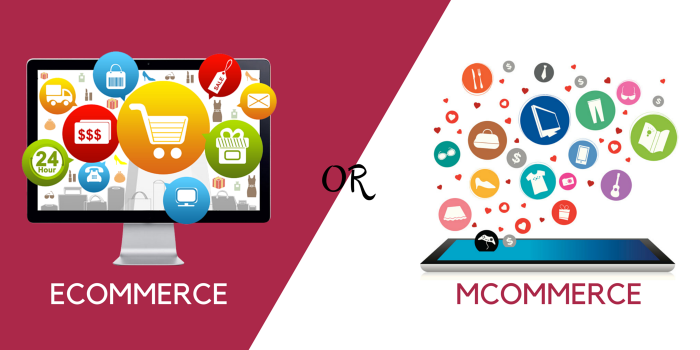 Here are some critical reasons which have prompted the paradigm shift of e-commerce to m-commerce.
1. Offers personalized
With the enormous increase in mobile phone users, there are many reputed brands like Amazon; Snapdeal has started investing in creating world class mobile platform. The customers can now shop for wide range of products on their smartphones. Within the mobile apps, the users can check the price, expected date of delivery or the scan bar code of items. It also offers an array of information like tracking the status of the product, notification of any new offer on the purchase or exclusive launch of new products.
2. To subdue the drawbacks of E-commerce
As every coin has two sides, E-commerce has several limitations. E-commerce lacks the advantage of mobility, privacy and security concerns. It cannot be considered as a platform for complete security for making transactions despite embodying the best solutions.
3. Advantages offered by Mobile Shopping
The growth of m-Commerce has been boosted with the increase in many factors. This can be done throughout the use of smartphones, excellent UI, great loyalty programs, easy and fast access available 24/7, quick payments, etc. These factors have motivated the use of retail mobile apps.
4. Mobile Commerce would rise E-Commerce ROI
M-commerce and E-commerce are increasing a very quick speed. In a recent study, it was discovered that the return on investment on the m-commerce industry will be enormous by the end of 2016. The study was conducted on the 17600 consumers across 22 countries who are using mobile phones to shop. It resulted in the massive growth rate of 42% in comparison with 13% of the e-commerce sector, by the end of 2016.
5. No limit of Geographic boundaries
Undoubtedly, mobile commerce offers seamless interaction with the brands, retailers and business from across the globe. This has accelerated the demand of M-commerce to E-Commerce. The smartphone users have the privilege of shopping from any corner of the world instead of taking the pains of visiting the local shops of the market or country specific stores.
6. Offers huge business opportunity
The mobile shopping applications serve huge of your target market effectively, thus bringing larger opportunity to the application owners. With the rise of mobile technology, the young generation is more comfortable with digital technology, which has increased the usage of the tablets and the smart phones.
To Conclude
As discussed above, these were some top most reason why there is a significant shift to m-commerce from e-commerce. Apart from the USA, the other significant players in the mCommerce growth are India, China, Turkey, and UAE. Many of the leading e-commerce players like Amazon, eBay, Walmart have already landed into mobile-first strategy after understanding the target audience and its scope. The top fashioned website, Myntra has already taken an exit from its E-commerce website because of greater response from its mobile application.
Thus, we can say, users experience, loyalty program, and 24/7 fastest access are essential to any mobile retail apps.
Summary
Have you ever experienced how mobile applications in retail business have open a massive customer database in recent years? They have probably given increase customer conversion with it. Here is why an m-Commerce industry is in prominent demand.