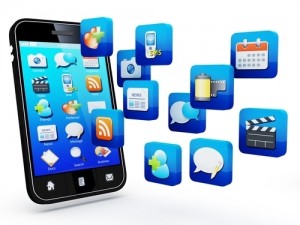 With the ever-growing success of mobile apps, there's been an incredible increase in the count of Mobile App Development Companies. More and more people are switching towards the development of mobile applications that can be used for promoting a business product or service. If you too are on a look out for the best mobile app then Appsted is the company you can trust. Having completed 5 successful years in the Mobile App Development industry, Appsted continues to remain one of the leading mobile application development companies.
Appsted has been utilizing result-driven project management techniques for delivering high-performance mobile applications for different mobile operating systems including Android, iOS, Windows, Blackberry etc. With a keen eye on building scalable and modular mobile applications, Appsted has been appreciated for its contribution to the world of mobile applications. With mobiles overpowering desktops and laptops, the need for excellent mobile applications has become undeniable. Mobile application developers at Appsted believe in making technology as your ladder of success. Hence, these professionals ensure to remain committed towards delivering high-quality mobile applications that can serve different purposes. As a renowned mobile app development services firm, Appsted has its business spread across the globe.
Here's a list of iPhone and Android Application Development Services delivered by Appsted:
iPhone/iPad Development

Android Development

Windows Development

HTML5 Mobile Development
App Developers at Appsted continuously update themselves with everything that's latest in the field of mobile application development. By maintaining a thought on behalf of its clients, the company is equipped with all the necessary knowledge that needs to be put into making an app development project a complete success. Appsted is the company which offers real value for your money. Some of the remarkable mobile apps delivered by the company include:
Manage Expense Android Application– This is a robust mobile app which allows you to manage all your expenses and incomes. With this app installed in your Android device, you can easily track your expenses and income in a categorized manner. Also, you can choose to schedule payment, manage multiple accounts, manage reports, receive payment alerts and indulge in a variety of import/export activities.

Stutix- This is an amazing Events Booking iPhone Application which allows the UK-based students to find and buy tickers to all the upcoming events at real discounted prices. With this app installed in their iPhones, the UK students can security purchase tickets to gain entry at some of the UK's leading and exciting events specially held for students.

Fitness Tracker Android Application– This is yet another brilliant offering by Appsted. Specially designed for the fitness freaks, this Android application allows you to track the time, distance, speed, altitude etc. related to your fitness workout regime. Fitness Tracker is a custom-made mobile application for runners, cyclists, roller-skaters, joggers and everyone else who wants to take out time for his/her health.

PinyPoint Health iPhone Application– This is yet another key offering by Appsted. As an out-of-the-box health application, PinyPoint lets patients record their own symptoms visually, followed by tagging photos and other activities related to the affected areas. This recorded information is then directly conveyed to the concerned physician for gathering suitable medication.
Appsted hasn't refrained itself from exploring different verticals for mobile app development. Some of the key domains covered by Appsted include: Education, Game Development, Social apps, Sports, Medicine, Multimedia, GPS, Bluetooth, News and Magazine, Travel and Lifestyle, Finance etc. Having catered over 5000 mobile apps in the last 5 years, Appsted is all geared up for welcoming newer avenues of mobile application development. Keeping in-line with the changing trends, the company looks forward to deliver bespoke and highly compelling mobile applications which have the potential of standing out from the crowd. If developing an impressive mobile application is on your mind, then getting in touch with Appsted professionals is something you should'nt delay doing.