In this technology-driven era, where one-fourth population of the world entirely depends on the mobile applications to access everything right from shopping to booking to studies, mobile apps have become a significant part of everyone's life.
People all over the world are accessing smartphones and tablets; hence the popularity of mobile apps is tremendously increasing. In 2017, the average app download statistics were 178 billion and expected to reach 258 billion in 2022. It shows that people don't just access their smartphone for watching videos, playing games or social network. They are also leveraging mobile apps for business growth. According to studies, business mobile apps have a higher rate of conversion than desktop or mobile websites. If you are still stuck to the desktop apps and unsure of getting the custom mobile app development services, then this blog is for you.
Over the years, a custom mobile application has become a necessity for every business. A custom app not only helps you stand ahead in this highly competitive market but also gives you a unique and exclusive mobile presence in this challenging scenario. And with the help of custom mobile app development company, you can develop a simple mobile application that can assist any business to boost sales and generate more revenue.
Now the question is, is it simple to develop a business application? Do you have skills and knowledge to customize the layout of your mobile app? What kind of platform should you integrate to develop an application?
Well, the only answer to your questions is, developing a mobile application is a complex task, especially while developing it for your business. As you want best user-interface, smooth functioning, high scalability, low maintenance app for your business, it is worth to leave the task with Custom Mobile App Development Company.
However, before any action, consider the benefits of developing a customized mobile application that users can access it on both Android and iOS. While starting the app development process, keep in mind that people are more prone to spend time on smartphones rather than on media using mobile webs.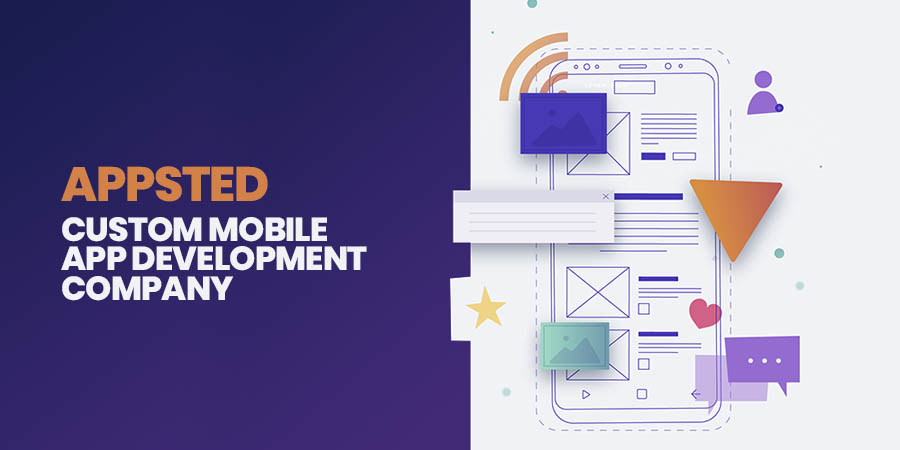 If you have finally decided to develop a custom app, then take a moment and explore all the ways that custom mobile app development services can help improve the productivity and revenue in your company. With Custom Mobile App Development company, you can better analyze the device's flexibility and ability to develop an app that overall enhances performance and security.
Let's get started with the increasing benefits of Custom Mobile App Development…
1. Customize the Layout of the App For Your Business
Having a mobile application isn't just meant to make an impact on the future of your business.
For instance; when people want their outfits sewn for their body, they go-to tailor. Similarly, when your business has a specific list of products and services and has a different target audience, you need a custom app that best fits your business needs.
If you want your business to deliver a complete experience to the users, it is worthwhile to develop a customized app. The well-developed app will serve your specific needs as compared to a universal app. Moreover, the customized app has extensive features, including admin backend, communication framework, etc. The added features of your custom app will make a positive impact on your business.
2. Boost Your Business Growth With a Custom App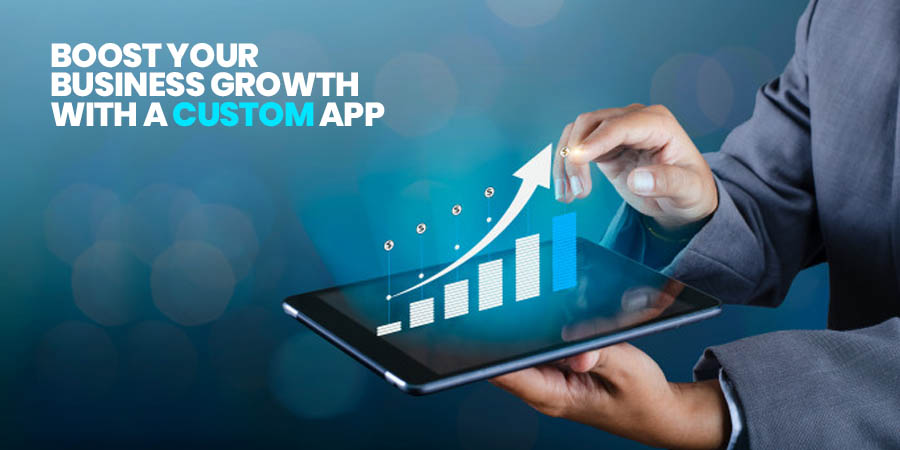 A universal mobile application is a regular app that most people accustomed to using it. However, customized app development is the process of building an app that is user-centric. The biggest perk of hiring a mobile app development company, such as Appsted, it majorly focuses on the requirement and expectations of targeted users while developing an app. They not only streamlines the functionalities and features of the app but also keep in mind your business objective.
3. Enhance Business Productivity with Best Mobile App Development Company
No matter what size of business you are managing, a custom app can provide you with a perfect solution which ultimately adds growth to your business. As it integrates various features and business-centric functionalities, though it is easy to lead the efficiency and work productivity of your workplace.
Nate Nordstrom, Founder & CEO of BrandHoot, says "The best apps are the one that combines exceptional utility and speed with great user experience. Apps should improve my workflow, not drag me down. I'm pretty quick to delete an app that doesn't help accomplish my goals".
On the other side of the coin, universal apps are only meant to serve you general functions, and in the rare case, it fits your business needs to enhance employee productivity.
4. Generate More Revenue With a Custom App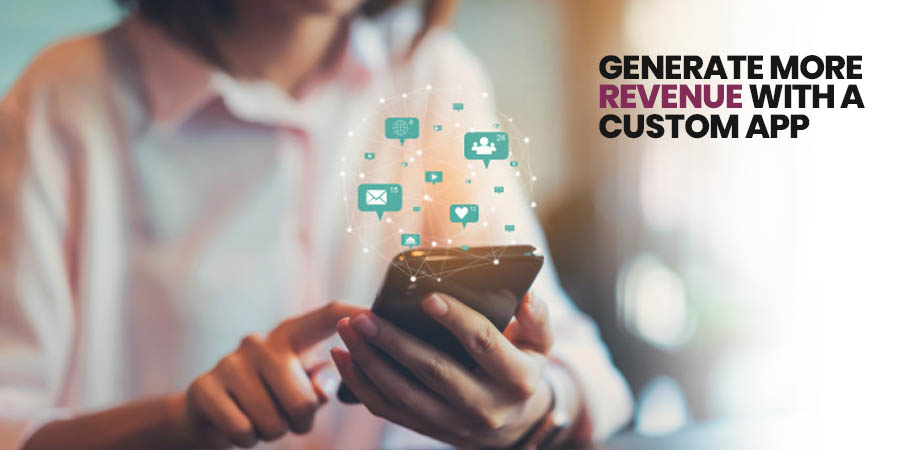 A custom mobile app not only enhances business productivity but also add to your avenues of revenue generation. With strategic third-party collaborations, you can not only offer extended services to your customers but also encourage them to make a final purchase.
For example, if you have a confectionery business, you can establish tie-ups with florists and gift shops. Now, when people place an order for a birthday cake, your app can ask the customer whether they want to add bouquet or gift cards with it. Also, you can charge a certain percentage for the third-party vendor for sales initiative through your shop.
Custom mobile application development can allow you to capitalize on such revenue generation options and lift your business sales efficiently.
5. Custom Mobile Apps Are Highly Secured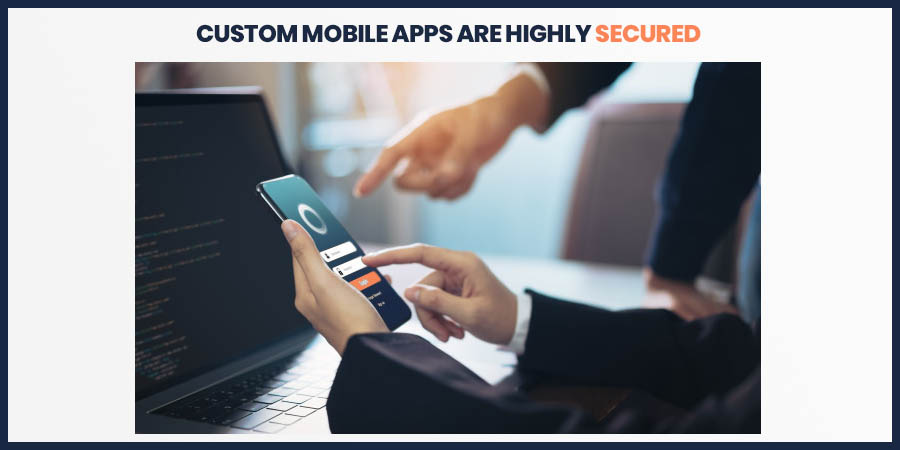 Are you scared of signing up the mobile applications? Well, the most common problem with universal apps is the security of the user's data. However, a custom mobile app can easily tailor your experience. Custom mobile app development services offer you to include the best security features that ensure user-data protection.
Why think so much about the security features of your business mobile application, when Appsted is here to offer you cutting-edge feature-rich applications for your business at affordable rates. Their pool of in-house Hire Mobile App Developers and designers combine their expertise with the latest tools to create an advanced app that perfectly fits your business needs.
6. Improve Customer Relationship With Custom App Development Services
Did you believe in this fact that a well-driven application can offer you an excellent way to build a direct connection with the customs? HOW?
Custom applications are specifically developed for your business services and products, and offering direct access to the customers. Further, an application push notifications about every update of your business, that unfortunately, play a vital role in enhancing customer relationship.
Developing a custom application is a useful way for notifying your target audience about any offer, sale and discount or any newly launched product. With a well-developed app, you can slowly and gradually make your brand stand out in the competitive market.
7. Ensures Real-Time Project Assessment
Having seamless access to all your work through an application is the dream of every business owner. If you are also looking for the same, then all you need is a custom app development services for your business.
With a customized app for your venture, you can easily synchronize your phone with your desktop and have access to all your work documents, tasks, and so on. Also, you can share business contracts, profiles and product portfolio of your business.
Appsted: Offering Complete Custom Mobile Application Development Solution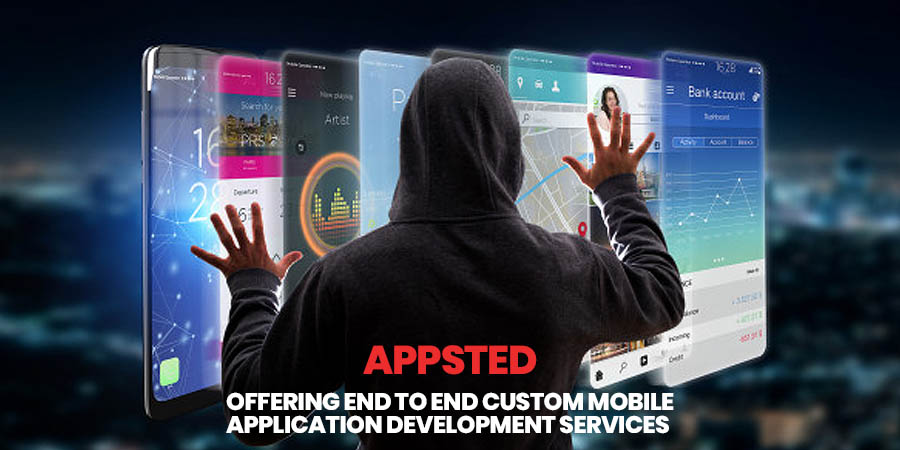 Choosing a custom mobile app development company is one of the biggest tasks for businesses. However, the service providers like Appsted particularly emphasize on your core business requirements while developing an application.
Appsted is a leading software development company that is committed to building robust and scalable applications that add value to your business. With 10+ years of experience and 250+ highly skilled developers, they have delivered 100% robust, scalable and high performance mobile applications that put your business at the perfect curve. By deploying collaborative project management systems and communication channels, they deliver the highest level of customer satisfaction
Still unsure, whether to hire Appsted for custom app development services for your business?
Essential Features That Makes Them Outshine
1. Implementation of Proven Technologies and Methodologie
A deployment of result-driven yet advanced technologies empowers them to address client demands for robust solutions that provide a perfect competitive edge to your business.
2. 24/7 Technical Support
For Appsted, customer needs are is the topmost priority and their satisfaction is the actual certification. Therefore, no matter whether you have chosen custom app development services or cross-platform app development, they aimed to resolve your issues as earliest as possible with 24/7 continuous support.
3. Skilled Developers
With the pool of 250+ highly passionate and skilled developers, Appsted has seamlessly delivered thousands of software development projects globally.
Let's Wrap It!
With the increasing trend of mobilization, a rising number of business enterprises are leveraging the custom mobile application to stay ahead of the competition. If you haven't thought of it yet, it is undoubtedly the time now to take this action for your business and get in touch with Appsted. They will not shorten the application development time, but also offers you affordable, tailor-made and reliable solutions for your business.