With the rise of fiercing competition in the app store, 93% of the mobile application are downloaded for no cost. It is heartbreaking but true that only a handful of free mobile apps actually make enough money to sustain in business competition. The paid mobile applications do not sustain in the market because they cannot find attention from the users. If you're under an impression that subscription alone can do wonders in application download numbers, then you're mistaken! Apart from subscription, there are too many other things which can contribute to making your app a big hit.
Remember, all applications are different. It varies from users usage and competition level, thus, resulting in diverse monetization strategy. It can be a situation where what works for iOS development company may differ for other competent Android development company. This can be considered as a simple principle while devising a monetization strategy.
In the past few years, we have witnessed an unprecedented number of people rushing to develop mobile apps. The major reason behind developing apps is earning revenues. If you examine the mobile app revenue from 2011 – 2015 and forecasts the same revenue till 2017, it will give you a rosy picture.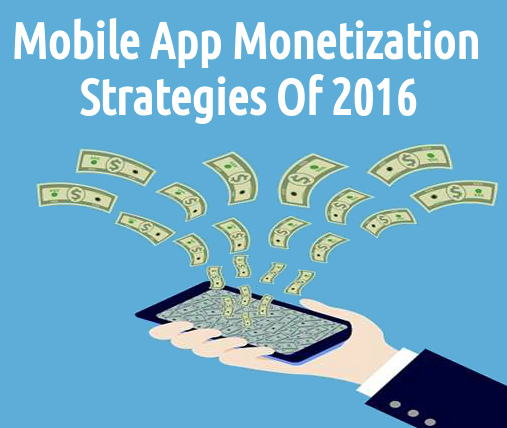 Here are some highlights of the previous years results:
1. The maximum growth was recorded in 2012, out of which iOS contributed majorly. It is because iOS launched iPhone 5 recently.
2. The revenue reached 445%, between 2011 and 2015.
3. By 2017 it is expected to jump by 69% over 2015 revenue.
Here is The Developer Economics Q3 2014 Report. According to the report:
1. The majority of mobile applications business could not survive or are at the borderline.
2. Half of the iOS app developers and 64% of the Android app developers are going below $500 per app per month.
3. Only 1.6% of the mobile apps earns the revenue more than $500K per month.
4. Approximately, 69% of the mobile app developers struggle to sustain full-time development from the app revenue only.
So in order to sustain in the competition, one needs to do planning strategically. You need to consider app dimensions from various prospectives. Consider the following questions:
1. What problem does your application will serve?
2. What is the USP of your mobile app? What will entice users to pay for it?
3. What business model will you use for your mobile application?
4. What is the worth of your application? Will the users be willing to pay for additional features in your application?
After you get correct answers to these questions, the next step is to proceed with app business model. Here we have discussed few famous business models that you can explore to make a right decision.
1. Free with Built-in Apps
This is the most popular approach and drives high user acquisition. To get the more features of the same application, the user can upgrade to the premium app by paying a subscription fee. This approach is good up till your free version offers some useful features and content.
2. Paid Applications
It charges money to download this application. It earns money with new users subscriptions. The paid application should be feature riched and must be able to solve users complex problems. Your marketing team must be rigid enough to convince users to buy your app instead of searching for free substitutes.
3. In-App Purchases
It is considered as a profit sharing model where users can purchase anything like consumer goods and possess commodity model.
4. Subscriptions
It is basically concerned with content-based applications. Whereas some of the content pieces are available for users for no cost, and for reading the whole content, users have to pay for full content.
5. Incentivized Advertising
Here you can let brands advertise your application and give individual promotional offers based on the activities of your users.It is basically applicable in gaming applications where certain users redeem their gifts and earn revenue.
Wrapping up
The above mentioned tactics are not enough to promote your mobile application. They should be considered with the combination of other tactics in your app marketing strategies to get the right results. With the enormous amount of applications across every niche, one cannot expect the right result of monetization strategy too promptly.