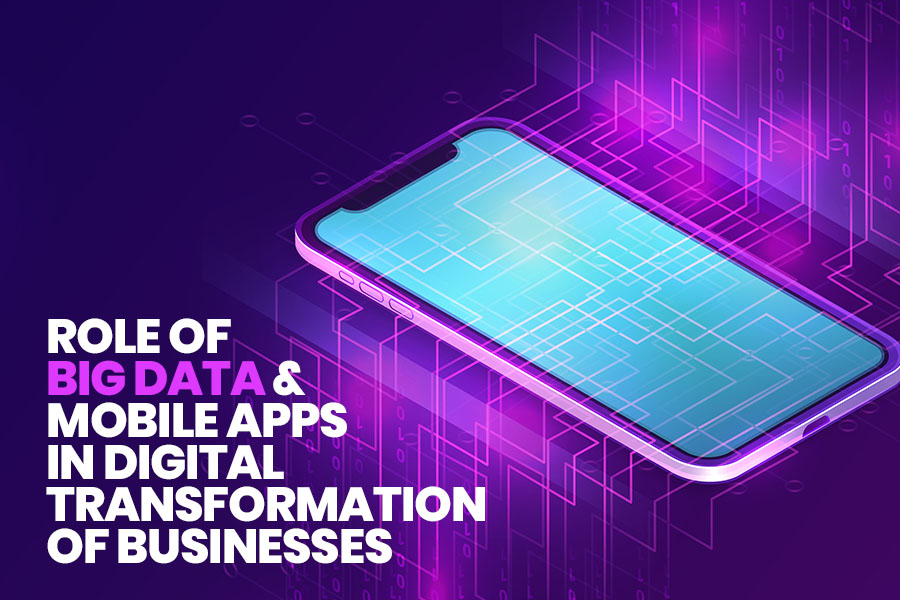 Big data is a BIG term in 2020 and it is going to be the biggest in the coming years. This latest technology is already being employed by many renowned brands such as Amazon, Starbucks, AmEx, Capital One, to name a few. Have you ever thought about what impact this technology can make in mobile applications? What is the future of big data? How big data will impact the future of big data mobile app development? Let's find out answers to all these questions through this blog!
But, what exactly is Big Data?
In this digital era, the disparate and dynamic volume of data and information is created by machines, people, and tools. And such a behemoth of data requires improved, latest, innovative, secure and scalable technology for gathering, analytics and hosting. With the help of Big Data technology, this data is processed and through this information, real-time and rich business insights are derived related to the profit, users, productivity management, performance, risk, and augmented shareholder value.
In the world of Big Data, the factor is speed and scalability. There is various traditional analytics that usually focuses on the interpretation of historical data and facts. On the other hand, with the use of  Big Data analysis, real-time data and information is encompassed easily. Amazon, Starbucks, American Express, Capital One, and Netflix are some brands that are reaping the benefit of big data analysis and provide their customers the better services that used to be impossible with the help of traditional analytics.
Now, let's have a look at the exponential growth of big data in the last four years: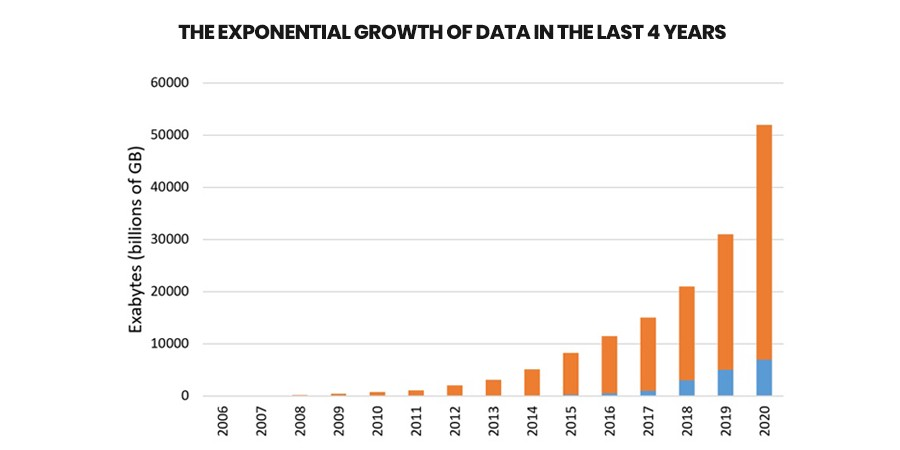 The last four years have witnessed more data and information than the entire history of mankind. By 2020, we have collected 44 trillion gigabytes of data, with more than 10 billion gigabytes of data every second. In 2017 alone, more than a trillion photographs will be captured with the help of smartphones, billions of which will be transferred to a plethora of social networking platforms through various mobile applications. In addition to this, a unique amount of graphical data will reach the World Wide Web, from restaurant to fitness bills.
So, what is the exact role of big data in mobile app development
The influence of big data is huge in the mobile application development industry because it comprises the data obtained from social media, mobile phone device data, audio as well as video recording, and the recording and maintenance of unstructured and structured data. There are various mobile app development companies that are using big data analysis to make their mobile phones more precise in coping up with the needs of the users.
Big data for application development allowed app developers to leverage more command over various external factors. By linking, evaluating and understanding the use of applications, companies, whether they are small or big, are moving towards their proposed goals. By extracting in-depth insights and information about the user experience, it can be made more relevant to the demand of user that is characterized by:
Volume: The created data volume is larger in comparison to conventional sources of data.
Velocity: Here, the data is created extremely promptly— which is a never stopping process, even when you fall asleep.
Veracity: Big Data is sourced actively from a plethora of places and as a result, you are needed to check the veracity and quality of the data.
Variety: The data is obtained from multiple sources and built by people and machines.
Now, let's look at several benefits of using big data development for mobile app development
1. It gives rise to smart marketing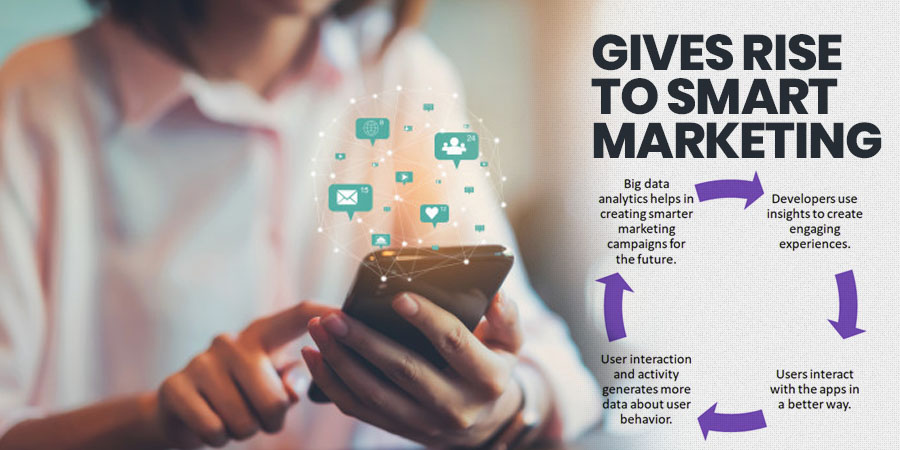 Big data analytics paves a new path to mobile application marketing with the help of business intelligence. Marketers use big data analytics in order to target users in a professional and efficient manner as before. Besides, using smart statistics and data collected with big data tools, app development company can variously draw meaningful conclusions from data collected from mobile application users.
Have a look at mutual & synergistic relationships between mobile app development, big data analytics, and marketing:
Symbiotic & co-dependent relationship between big data analysis, mobile app development & marketing significance of IoT and Big Data for Digital Transformation
2. It helps in creating more customer-driven mobile applications
For the primary victory of any appropriate mobile app, it is important that it is convenient to use, providing a striking, error-free form. Nevertheless, for customers to continue using their mobile applications, it is important to satisfy all user needs. Big Data presents a report based on an accurate review of the user experience. By focusing on customer needs, application developers can easily design a better mobile app that offers user-oriented planning and unique user experience.
3. Big data facilitates the development of personalized mobile applications tailored to create specific user requirements
As per the report submitted by ComScore, the average user spends 88% of their time on mobile phones on different apps. In the market, an app can be obtained for practically everything such as traveling, shopping, and dining. Although, the mobile application market is pretty competitive and unstable.
In a world where every brand and businesses spend in building an app, it makes it difficult for dynamic mobile app owners and developers to give users something unique that is not yet available in the market. Solely with the help of big data analytics, app programmers can easily create customized, intuitive, customer-centric mobile applications.
With the help of careful analysis of customer experiences, big data tools can offer app developers with all kinds of basic information about how any specific users interact with a particular application. Moreover, they can get an idea of ​​what customers want to achieve when they use these mobile apps. Finally, identifying what the customer really wants, app programmers can create easy-to-use and great mobile apps such as mobile funding platforms.
In addition to this, mobile app developers can use big data solutions to recognize various advanced features that can make their mobile applications more productive and useful. They can also integrate compelling features in order to create modern and feature-packed mobile applications that can win millions of hearts.
4. Big data can also boost the overall performance of the mobile application.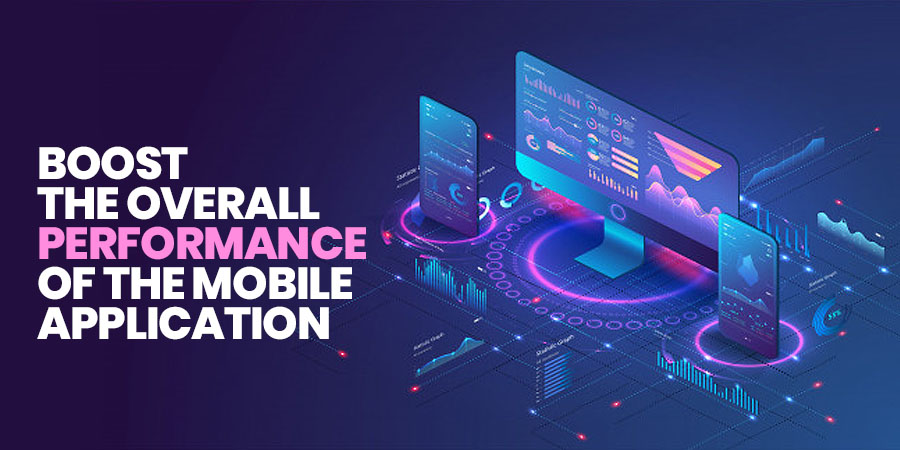 With the aid of big data analysis, mobile app developers can gain insight into the amount of traffic that is generated by their mobile applications. This makes it more manageable for the developers to rate each different segment in order to track feedback and identify various defects that impede uninterrupted scalability and performance.
They can quickly fix these obstacles and enhance the overall performance of their mobile applications so as to overcome user abandonment rates. In addition to this, consumers will take more contentment in using these mobile apps supported by passionate programmers who are always committed to updating functions to manage the functionality of their mobile app.
5. It can assist in creating mobile applications that can cater to international markets
Every mobile app developer or owner wants their mobile app to serve a global customer base. But it is not easy to think about how consumers from different regions and countries interact with a particular mobile application.
This is where big data approaches the image because it presents filtered data for programmers as per their location, age, gender, etc. Mobile app developers can use this information so as to target a specific category of modifying and users their mobile apps to suit their requirements.
6. It can offer real-time data in order to facilitate instant decision making
The mobile application market is very dynamic and is continually evolving with new trends that are often on the range. This is the idea why if you want your mobile application to succeed successfully in the volatile scene, you have to stay ahead of all recent trends with the help of real-time data evaluation.
Big data solutions offer real-time data that can be widely used by businessmen in order to make quick adjustments and decisions for their application as per the scenarios and changing requirements of the market. This will make the mobile app more relevant and able to collect higher brand earnings in the future.
For instance, Uber uses big data analysis solutions in order to analyze real-time weather conditions, estimated travel times, available traffic and driver conditions in nearby locations, so the user is paid features like the amount to be administered. Expected waiting time The best big data companies provide detailed information by studying the behavior of the customer.
This data provides business owners with various innovative ideas for developing new mobile applications. In addition to this, android or iPhone app development company can create solutions to enhance existing mobile applications in order to attract more and more customers while retaining older customers. By building customer-driven mobile apps, businesses not only earn revenue and overall profit but also improve their reputation.
Is the digital transformation of business possible using Big Data and Mobile app development?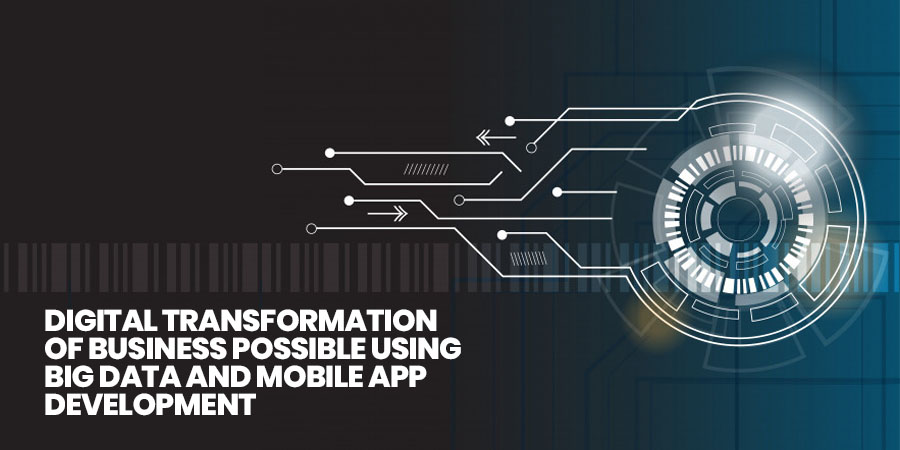 Companies across the world have been scrambling to implement digital transformation into their business ever since the mass-adoption of Internet-oriented services. The widespread IT transformation across different industries has resulted in the use of different technologies to bring greater levels of efficiency in business operations. However, in the modern world, digital transformation is simply incomplete without the use of IoT and Big Data analytics.
But before we dive in to understand why the Internet of Things and Big Data analytics are so crucial to IT transformation, here is an overview. In its essence, Digital Transformation is a reform wherein corporations leverage technology to improve operations and enhance its brand value and customer interaction. Today, emerging technologies including AI, Chatbots, AR and Blockchain have become parts that together constitute digital transformation as a whole.
Among these technologies also exists the Internet of things or IOT mobile app development. To be fair, if you'd ask any digital transformation consultants about IoT, chances are that they won't consider it as a separate technology, but perhaps a glue for holding every other implemented technology together. IoT is essentially just a connection of devices on a single network, which harmoniously sends and receives data to facilitate seamless operations.
To understand how IoT or IIOT can work in IT transformation, here are a few quick examples.
IoT sensors used in manufacturing plants can enable testers to find defects and maintenance issues way before these actually affect the flow of production.
Device manufacturers can gain valuable insights through data obtained from IoT sensors. Many companies such as MAN already track data of their trucks and use it for self-repair services and for selling the information to users at a price.
IoT can also be used for supply chain management to identify the estimates of available resources in different types of locations at the same time, and to identify the gaps in inventory management.
Such applications of IoT allow companies to harness controls for all sorts of operations within a single controller device. This is what IIoT is all about! Creating harmony between every operation, every device synchronically with sensors and track every moment with ease.
The utilization of IoT in companies involves the use of IoT sensors on heavy devices and machinery. Doing this is moderately simple. All it requires is to fit in devices with sensors, connect them to a bridge and passage all of them and provide its access to a controller device. Yet, better control may not always result in better decision-making.
IIoT generates its true meaning with the data accumulated through all devices on a network. An IoT network can generate tons of data having a meaningful correlation, which can then be put to excellent use cases. But this data is often so high in its quantity that human minds alone won't suffice to interpret them. This is where Big Data analytics, along with other assisting technologies in an IT Transformation umbrella can play their role.
Big Data analytics can be combined with Machine learning and AI to help comprehend the humongous amounts of data generated by IoT devices. It is this data that has helped several companies to make better decisions and predict future trends and behavior of the hardware and fix issues with little or no human interference.
A real-world example of the potential of Big data is set at the Empire State Building in New York City. The landmark uses AI to manage lighting systems for the entire building, and this has given its operators the hope to achieve 385 lower power consumption and operational savings of over $4.4 Billion.
Is Big Data the future of Digital Transformation?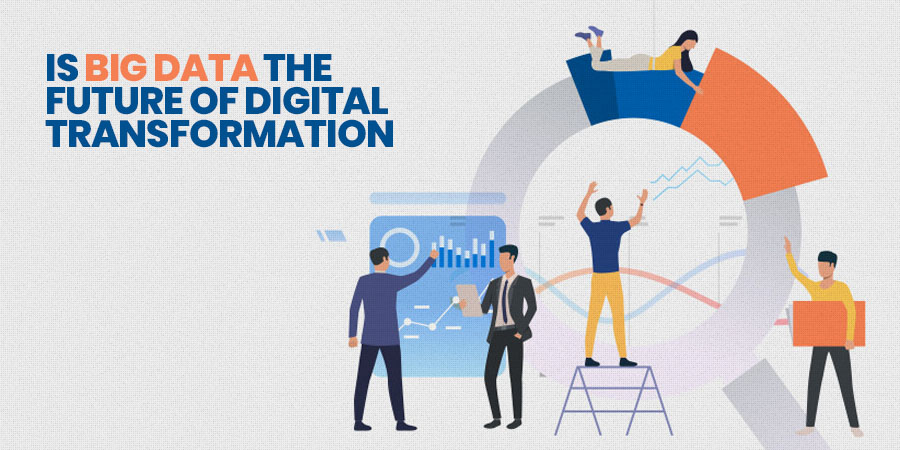 Initially, IT transformation was only considered a term used for firms moving to online mediums for services and giving customers a new stage for interaction. Digital transformation companies in the early days were simply concerned with using the Internet and associated mediums to make businesses more practical and modernized.
Today, the world's best digital transformation consultants consider it as an amalgamation of many technologies to implement huge reforms in a company; which increase profitability, and in some cases, change entire business models of a firm.
However, leveraging complicated technologies in a corporation is one thing. Doing so by inter-linking existing technologies is another. The Internet of Things (IoT) acts as a glue holding all these latest technologies together. In addition to this, it brings data through IoT sensors and uses additional technologies within its umbrella to guide and interpret it in the best ways possible.
IoT and Big Data are to Digital Transformation today what the Internet is to Digital Marketing. As already stated, digital transformation is simply not worthy of any meaning without IoT and Big Data analytics. Companies and customers might even forget a term such as digital transformation within the next few years. It may get so embedded in daily lives that we begin to see it as something so normal as electricity or even the Internet.
Digital Transformation is still evolving, and with each new technology, the umbrella of the term is expanding more than ever. The world's top digital transformation companies themselves are expanding their range of support services to eager clients. But Big Data is expected to remain constant as the key enablers for digital transformation: for IoT is the glue holding all technologies in this umbrella together, and big data is the fuel which makes it run.
Let's Wrap Up:
So, in this blog post, we have seen various benefits of big data analysis and amalgamating it with mobile applications. The duo has many benefits and helps to transform the businesses digitally. But, one crucial factor of the success of your big data-powered mobile application is to hire mobile app developer who have rich domain expertise in creating such kind of applications. You should hire app developer who have an in-depth understanding of your business types.